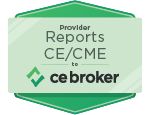 We submit completed courses to CeBroker daily for courses completed the previous day.
FL In-Service Training Requirements for CNAs
---
FL CNAs you are required to complete 24 inservice hours every 2 years.
For only $29.99, you can take 48 hours of CNA continuing education inservices.
Required Florida CNA Courses:
CPR Skills - Florida now requires this course be taken in a live setting.
---
Notes
The courses on cnaZone.com are developed by cnaZone.com which is an approved provider of the Florida Board of Nursing - Certified Nursing Assistants provider # 50-29465.
---
Questions? Contact us here.